Description
FBackup has a simple interface and guides you through the process of defining a backup job using a friendly wizard that asks you:
Where do you want to store the backup (the destination).
What do you want to backup (the sources).
How do you want to run the backup (using full backup that zips the files, or mirror backup that doesn't zip them).
When do you want to run the backup (you can schedule it to run automatically or run it manually).
Once a backup job is defined, you can run it manually by pressing the Backup button (or F6), or if you add a scheduler it will run automatically.
FBackup can easily back up sources from local drives (including USB connected drives) or online locations (Dropbox/Google Drive) to destinations such as USB/Firewire connected devices, mapped network locations or in the cloud (Dropbox/Google Drive).
It creates either standard zip files (when using "full backup"), or exact copies of the original sources without any compression (using "mirror backup"). The best thing about this backup software is that it protects your data for a tiny cost of what it would be to replace.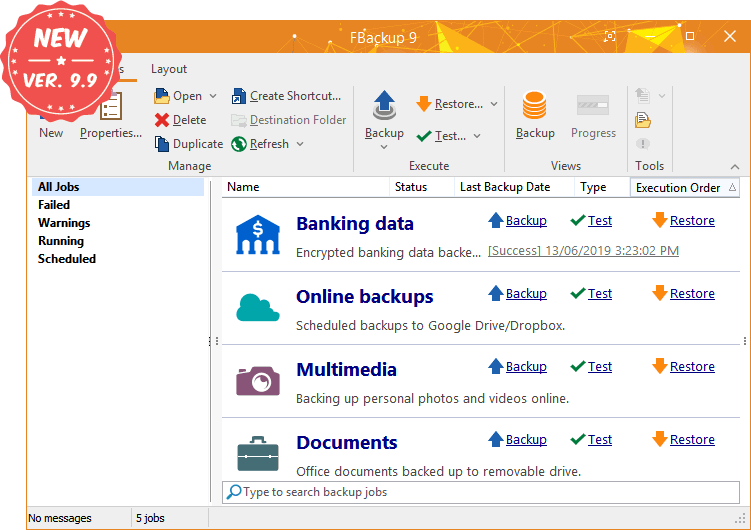 AUTOMATIC BACKUPS
You define a backup job, set it to run automatically, and forget about it. FBackup will automatically run the backup at the scheduled date, so you have the benefits not only of having your data protected, but you'll also save precious time.
 BACKUP WITH STANDARD ZIP COMPRESSION
When using "full backup", the sources will be archived using standard zip compression. FBackup uses ZIP64 compression, which means that it can create zip files over 2GB in size. Also, you can password protect your backup zip files.
A Limited Number at this Special Price.
RRP – £24.99
Forget that we will sell you this product for a great price
Genuine Feedback for this Item
Key Software is proud of our eBay feedback record and you can see the genuine feedback from users just like you for this exact product. Please do leave 5 star feedback for us as it's the only way we can keep our prices low.
INSTANT DIGITAL DOWNLOAD
You will be sent a download link and password to your email address as soon as payment is processed. This is normally instant and always within 15 minutes. If you get any problems with the download just message us and we will get back to you as soon as we can.
The DVD
You will receive a professionally authored and electronically verified DVD. Full and comprehensive instructions on using the software are available online. Simply insert the disc into your computer and the menu will begin instantly. In order to keep the postage cost as low as possible you will receive your DVD disc in a slimline protective sleeve, within a hard cardboard envelope. If you do not have a DVD player then please select the digital download or USB option.
The USB
We have recently upgraded all of our products to use 32Gb high speed USB 3.0 drives. These metal keys work in all USB ports and read/write 5 times quicker than USB 2.0 drives.
Postage
We offer same day dispatch for orders before 3PM and all items are send 1st class. Express shipping is available at checkout although this is rarely quicker. Items are sent by Royal Mail, you should expect your item within 1-3 working days for UK customers. If your item has not arrived after this time please contact us and we will send you another immediately.
Guarantee
When you make a purchase from Key Software we guarantee your satisfaction. Full support is available 24/7 via our support email, if you have any issues with your order simply contact through eBay messaging and we will resolve any problems. Most problems can be sorted out same day.
FAQs
Why is your service better than others?
FREE Delivery On ALL UK Orders
Genuine UK Stock
UK First Class Delivery As Standard
Friendly Customer Service
30 Day – No Hassle Returns
What about the quality of your discs?
High quality discs – Read speeds of up to 16X.
High quality label for all discs – no discs with just marker pen as a label
FREE – Windowed paper disc sleeve to protect your disc during and after postage
Extra postage protection – Each disc is sent in an hard card backed envelope
Every disc is tested to ensure its fully working before it gets sent
What Operating System Does This Disc Support?
Windows XP SP3 (32-bit)
Windows Vista SP1 (32-bit & 64-bit)
Windows 7 (32-bit & 64-bit)
Windows 8 (32-bit & 64-bit)
Windows 10 (32-bit & 64-bit)
Mac OS X 10.7 -10.10
Can I install and use the software on more than one computer? 
You can install this software onto all the computers within your home or office without any restrictions.
Is the software a full program and not a trial? Do I have to pay for updates? 
Again this software is different from the rest , just buying this disc entitles you to lifetime updates free of charge We would also like to mention that once the software detects an active internet connection it will download the latest version available ensuring maximum compatibility.
I have another question? 
No problem, just contact us via eBay or our Support Centre we offer 24/7 assistance and will get back to you promptly.